SUSTAINABILITY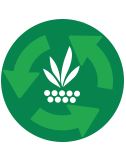 Buildings in the U.S. account for 40% of total energy consumption. They are responsible for 40% of the total carbon dioxide emissions. Sustainability and ecological soundness in building design are no longer issues that can be ignored.
Many simple decisions that carry no additional costs to the building owner can greatly affect the overall carbon footprint of a building. We routinely include no and low cost sustainable features in the design of our projects.
Taylor/Kempkes Architects P.A.
• Member of U.S. Green Building Council since 2004
• Anthony Taylor – LEED Accredited Professional
• Chris Sheppard – LEED Accredited Professional
Past Projects
New IRS Office at Aviation Plaza, Hot Springs, AR
Designed to EPA's Affirmative Procurement Program RCRA Section 6002 prior to GSA joining the U.S. Green Building Council
Included LEED categories such as:
Storage and Collection of Recyclables
Construction waste Management
Low Emitting Materials
Controllability of Systems
Renovation of the Quapaw Bathhouse, Hot Springs National Park, AR
Designed to LEED Silver Level – 37 points
Points attempted in all categories
Visitor Education Center, Logoly State Park, Columbia County, AR
Designed to LEED Gold Level
Current Status: Under Construction